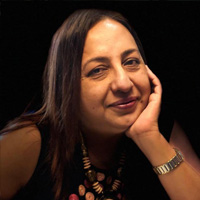 Sharmila Ghoshal Banerjee

Over 28 years of  Media Industry experience out of which over 12 years in Print and TV journalism as a Correspondent , Associate Editor and News Editor of Daily News papers , Worked in Times Group , Indian Express, DNA , INDIA TODAY  and over 16 years in the Key Managerial Levels and as part of senior management in large Corporates'.
Founder /CEO of Green Chillies Media
Executive Director of Fuzion Inc a 360 degree media company ,
Creative Advisor and CEO of JSW Imagineering , a Production based company ,
Creative Vice president of Entertainment Channels at Hinduja Group,
Head of Film Division of L&T Group,
Creative head of Disney World in Modi Entertainment Group
Television Journalist of TV Today Group.
Creative head of Surabhi Associates producing Serials for Doordarshan and Zee TV.Produced short films and assisted in production of Feature films. Created 2500 hours of content
Print Journalist- News Editor – Navbharat Group
Print Journalist – Times of India , Indian Express, DNA , Business world.
Chairperson- International Women's Leaders forum
Primary experience in Script writing, Production management of films, Direction and Film Making
Green Chillies Media
Founder, CEO
Directed and Produced 2500 hours of Content
Green Chillies is Production based company Producing films, TV Commercial, Short films, Web series.
Made short films on social issues, women centric subjects, youth and crime
Made Documentaries and Corporate films for Corporate Houses.
Made Ad Films for various brands.
Produced a feature called 'Rave' on youth and drugs.
Produced a film on Sexual harassment at work place.
Working on a Web series on youth oriented subject
International Women Leaders Forum
Chairperson
International Women Leaders Forum has a unique agenda to celebrate the women hood, in a way never enjoyed before. This is the only forum that will share the joy of being woman. The forum brings together the global women leaders to share the secret of being what they are and what they want to be. We have shared our sorrows, joy, pain, happiness, knowledge, experiences and emotions on many other platforms, but this forum offers that luxury, leisure and exclusivity to enjoy what we are today and what we want to be tomorrow.
Fuzion Inc
Executive Director & CEO
Fuzion Inc is a dedicated 360 degree media company that provides a complete brand for its clients. The company's aim is to integrate the global creative excellence with our traditional Indian ethnicity,
The company's core domain is in three areas.
Films
New Age Media
Tele -production
The other areas of specialisation are a Advertising, Branding, Media Planning and Buying, Events and Training
JSW Imagineering a Production Company
Group Senior Vice President
Also headed Group Communications, Creative head, Branding and Advertising
Advising the production company on appropriate scripts for production. Production of TVC's and other films
Looking after Creatives and Branding
Looking after Group Communications and Stake holder relationship Management
Hinduja Group
Senior Vice President Creatives – Incable channels
Content creatio , Content production , evaluation of scripts for production of feature films.
Content aquisition, bringing in international channels to India as Indian partners
Content Marketing
Offsetting Digitization, the CAS and the digi box promotion
Worked closely with TRAI for rolling out digital boxes
Also managing Group Communications, Branding , Advertising and stake holder relationship Management
Larsen & Toubro
Headed the Films Division
Directed, Produced Corporate Films
Media, Branding, Advertising, Mar communication
Looking after production, content creation and news generation in the company
Editor of 25 inhouse journals
Managing Group Communications with media

Disney India / Modi Entertainment
Group Head Media
Packaging of Disney Hours, To customize Disney hours for Indian audience and dubbing with hindi voice over and in other languages. This program was most popular amongst Children
Modi Entertainment limited was into production of feature films and Indian partners to Disney India and
Launched a Children's channel helped in content creation and acquisition.
Produced and directed many ad films for the company
Looked after Corporate Communications and Branding
Surabhi Associates Production
Executive Director and Producer
Directed and produced short films for Doordarshan 'Chalo Gaon ki Aur ' Nanha Sipahi ,
Produced and Directed Serial on Kashmir for Doordarshan 'Mera Watan hai Mera Watan'
Produced and Directed Serial on terrorism for Doordarshan' Aman'
This was widely appreciated and shown on DD International.
Directed short films for BBC on female foeticide and Women Bandit
Produced and directed a 36 episode Indo Malaysian Serial with their best Artists called 'Salaam Taj Mahal.
Directed Short films on Save the Girl Child, worked with many NGO's to create content
Directed short films on Tantra a form of religion for French television.
Hosted events on social causes.
Primary exposure to Asian Countries viz., China, Singapore, Malaysia, Sri Lanka & Hong Kong, Korea & Japan with regard to Market Intelligence. and media activities. Secondary exposure to US & UK.
TV Today (India Today Group)
Director /Producer, Senior Editor
Travelled across the country to direct meaningful feature documentaries
Some of my stories were widely acclaimed like 'No takers for Mental Asylum'
Save a girl , save a child '.
'The political vendetta of Nripen Chakrovorty'
'Khalliluah Medical scam'
Print Journalism
M P Chronicle, Nav Bharat – Chronicle Group of Newspapers
News editor, headed a team of sixty editorial staff.
Associate Editor, Estate News & Views– a Fortnightly Magazine
Worked as a journalist in Times OF India, Indian express
Management experience in Strategy, Marketing, Advertising, Film making, Media Planning, Media Buying and Business Development.
Over 12 years of experience in Journalism heading a News Paper Independently as News Editor taking care of the revenue model.
Specialties
Strategy, Business Development, Brand Building, Media Relations, Advertising, Events, Corporate Communications
Key Skills
Content creation
Direction
Production
Music composition
Media management
Education
Bhartiya Vidya Bhawan – DELHI
MBA from IMT Gaziabad,
MA in English from Delhi University.
Fellow research in Journalism
Pursuing PHD Program in Management From Mumbai University
 Interests
Music
Film making
Writing and Reading
Additional Honours & Awards
Recipient of Women in Leader Award as Editor / Writer in 2010-2011 by I-Group a Global firm
Recipient of 'Leaders in Media Sector Award' in 2009 at Women Leaders in India Achievement instituted by I-Group.
Recipient of Women in Leadership Choice Award in 2010 instituted by WILL FORUM (Women in leadership Forum]
Recipient of Runners up Award in Asian Women Leadership in 2011
Recipient of Global Leadership Award in 2014
Recipient of International Women Leadership Award 2015 /2017
Leadership Programs
Attended Top Management Leadership Programmes of MCKinsey , SHL Assessment , Harvard Business School,  Learning Path International (US based boutique), Landmark Forum Education.